The WatchWord Bible
It took 10 years for the WatchWord Bible to be produced. And that was just the New Testament! You'll understand just why it took so long to produce it when you watch it for yourself. It is a compelling, 26-hour presentation of the New Testament of God's Word. Personally, I think it's enjoyable to watch, and it's also very affordable.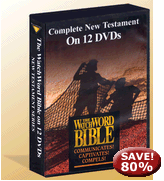 The thing I like about the WatchWord Bible is that it's not just text with narration; it's more than that. There are always images or motion pictures in the background, behind the text, that are relevant to what is being read. Additionally, the sound effects and the background music add to the pleasant experience.
The on-screen text fades in and out, which makes it easier to follow. Also, the text is displayed as short thoughts, which makes it easier to understand the individual ideas in each Bible passage.
Another thing I appreciate is the Bible translation that is used, the CEV. The Contemporary English Version (CEV) is easy to understand, and easy to listen to. This is especially important for young children or those just beginning to learn English, but is also helpful for anyone.
Buy WatchWord Bible for only $116.96

Leave a Comment...