"The Bible Experience"
My favorite audio Bible is "The Bible Experience." I was delighted when I first found out about the production, and I was even more excited when I bought it and listened to it.
"The Bible Experience" is a narration of God's Word in Today's New International Version (TNIV), which is a revision of the NIV (without the "T"). It features professional sound effects and background music. All the narrators are African-Americans from Hollywood.
You can listen to sample audio clips on the official website. Also, be sure to watch the 8-minute behind-the-scenes video below.
I absolutely love the narrators' voices, and the background sound effects. The voices are so natural, and I especially love the accent of African-American people. The background sound effects help me visualize what is being said.
The most exciting part about the narration and sound effects is the fact that it doesn't detract from the message of the Bible. It was done in such a way that the special effects support the message of God's Word.

With such a great production, there is only one thing that disappoints me. I do not like that there are songs mixed into the narration of God's Word. The songs are great, and they have a good, Godly message. But I don't like that they are "mixed in" with the Bible.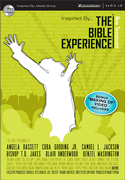 Apart from the "mixed-in" songs, I would say that The Bible Experience is the best audio Bible available today! Here's how you can buy it...
Tip: If you want the narration without the songs mixed in, buy the MP3 version, then download all the audio files to your computer, delete the songs, and burn the remaining audio files to CDs. It will take some work, but if you really don't want the songs on, it's worth it.
Leave a Comment...