Choosing a Compact Audio Bible
You can take a compact audio Bible with you almost anywhere you go. Traveling on business or vacation? Driving in the car? Jogging? You can bring along God's Word with you wherever you go!
iPod or iPhone
Being the huge Apple fan that I am, my first and strongest recommendation for a compact audio Bible is an iPod or iPhone.
These iOS devices are so much simpler to manage than other MP3 players, and they're more reliable. Plus, there are numerous audio Bibles you can purchase through the iTunes store. Then, all you have to do, is sync up with your iOS device, and you're all set.
Think about it... if you're going to have a cell phone anyway, and if you're going to listen to music anyway, why not get a device that can do all that plus more? It's a no brainer. But yes, there is another (less "cool") option...
GoBible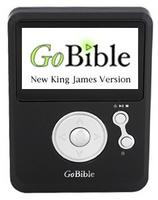 The GoBible is a revolutionary compact audio Bible. All you have to do is buy the device, and you're set to go! No need to download any audio Bibles or computer software. In fact, you'll never need to use a computer, except to buy the device. It comes pre-installed with the entire Bible, in your choice of either NIV, KJV, or NKJV.
In my opinion, the feature that sets this device head-and-shoulders above any other product is its ability to quickly and easily start playing at any verse of the Bible that you want. For example, if you want to read one of the last verses of Psalm 119, you simply choose the book "Psalms" then choose "119," and select the verse to start with.

You can even create up to 24 bookmarks. This is handy not only for bookmarking your favorite bible passages, but also for keeping track of where you last read, so that you know where to resume listening.
These are only some of the many features of the GoBible. You can get more information about the GoBible at the official website.
GoBible on iPod or iPhone
Ah yes, once again, we come back to the iPod or iPhone. I personally use the GoBible app on my iPhone, and I love it. There are so many times it has saved me time and hassle, so I can't recommend it enough. It costs only $23.99, and it offers the ability to start playing at any particular verse, plus the ability to bookmark a verse or chapter.
Get the GoBible app for $23.99
Leave a Comment...