Bible Software for Windows
You can read, study, and understand God's Word using Bible software for Windows PCs. Below is a list of a few hand-picked Bible programs that are available. I chose to list the ones I believe to be worthwhile and cost-effective.
Laridian PocketBible for Windows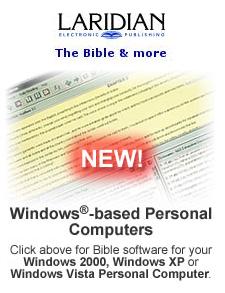 PocketBible is Laridian's flagship product, and is available for Windows, Palm, Pocket PC, and more.
The handy thing about Laridian's ordering system is that you first buy the Bible reader (in this case, PocketBible for Windows), and then you buy the "extra" stuff: Bible translations, commentaries, dictionaries, and devotional books.
Laridian's ordering system allows you to buy exactly what you want. In other words, you're not paying for an expensive product that has more books and commentaries than you care for. Instead, you get exactly what you pay for; no more, no less.
Additionally, Laridian's Bible translations, dictionaries, and more, can be used with any Laridian reader. So, if you ever decide to get PocketBible for your PDA, you can use the Bible translations, dictionaries, etc., that you had previously purchased for PocketBible for Windows.
Purchase PocketBible for Windows for only $29.99
(Bible versions are priced separtately)
e-Sword
e-Sword is one of the best free Bible programs available for Windows. Rick Meyers, the producer of e-Sword, is very generous to give away such high-quality software at no cost.
There are numerous Bible translations that can be downloaded (some for free, some for a price) at e-Sword's Bible page. Unfortunately, certain versions, such as the NIV, are not available due to copyright restrictions.
I have personally grown to like the NET Bible, which is available for e-Sword for $19.95.


iLumina
Ready for an engaging, interactive experience with the Bible?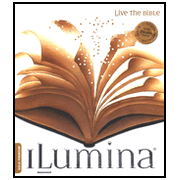 iLumina Bible software for Windows and Mac is filled with relevant photos, animations, and virtual tours, all intended to help you understand God's Word at a deeper level. For example, you can watch David throw the stone at Goliath (realistic computer animation); take a tour of parts of Nazareth; study a map, and more.
The NLT (New Living Translation) and the KJV (King James Version) are included in the Gold edition, making it easy to study both versions at the same time, or to read each one individually.
Check out this short informational video about iLumina...
You can buy the iLumina Bible software for Windows (and Mac compatible) on DVD for only $17.99 at LifeHhouse-Books.com
Logos
If you're ready for some serious Bible studying, you'll like Logos Bible Software. All of their packages come not only with the Bible, but also with commentaries, maps, devotionals, and more.
The Logos software comes in "packages." The cheapest package is the "Christian Home Library," which is priced at $149.95. Before you buy any package, compare what comes with each package and choose which one fits your needs best.
You can also purchase additional "add-ons" once you buy a package. You can add on more Bibles, commentaries, dictionaries, and more.
Other Programs
Here are some more programs that offer Bible software for Windows:
Leave a Comment...